Paddle for Suicide Prevention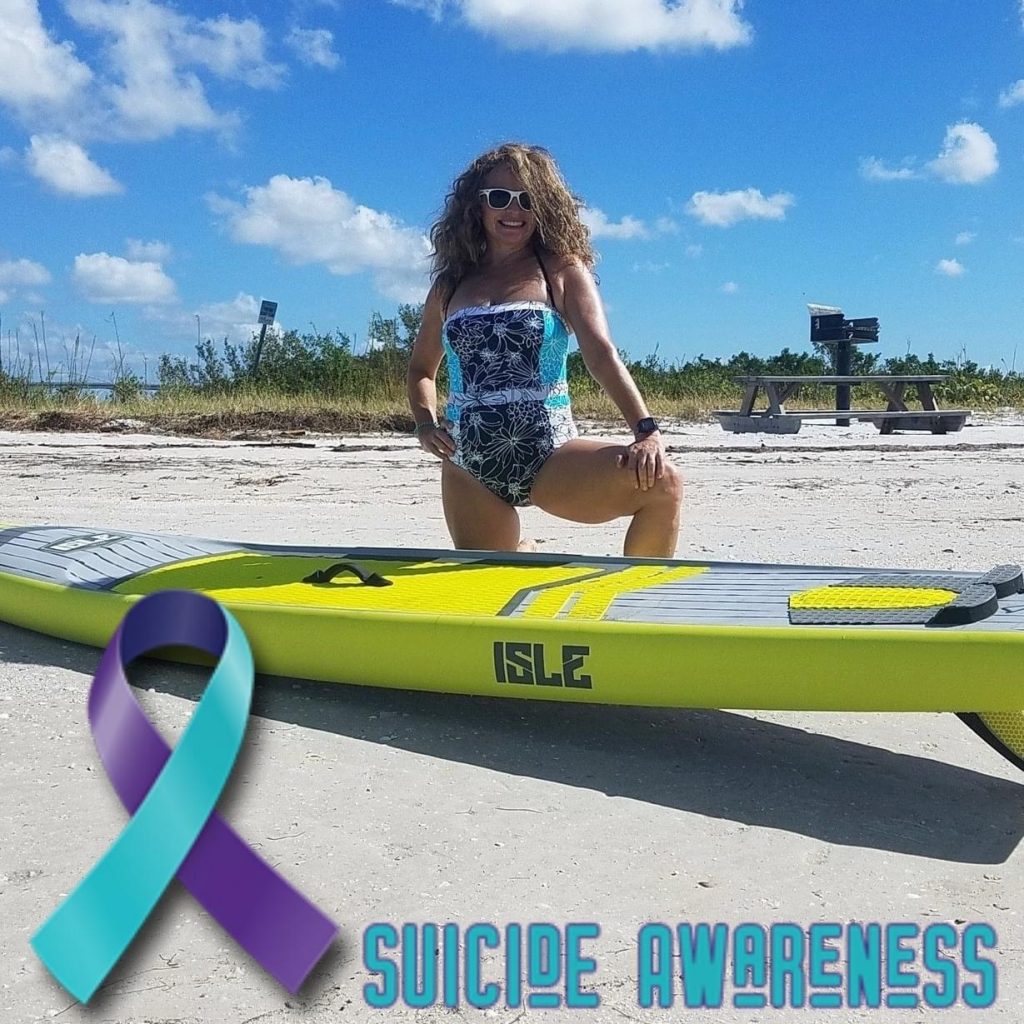 This is a community-based program offered to groups, families, and/or individuals that addresses mental health issues, and provides healing using water therapy with mentorship. It is a way to connect with others for support by collaborating with local mental health first aiders following ALGEE guidelines from the National Council for Behavioral Health. This program will work towards trust, courage, and confidence.
We will start out on an individual basis with the intention of you inviting a trusted friend or family member for support. If you do not have one you will be paired up with a mental health first aider. You will learn to focus on all aspects of paddling from water safety, navigating, stroke technique, board control, balance & coordination, equipment, and education. As you balance all of these physical elements to stay afloat, you'll most likely be more in touch with focusing your body and how to move with water in a natural and healthy way to relieve stress because you're effectively avoiding the negative thoughts running circles in your mind.
Being in the water helps the body alter the balance of epinephrine and dopamine to the levels of a meditative state.
Paddleboarding in nature is intended to relieve anxiety and establish calmness.
It requires intense focus which floods the brain with neurochemicals like serotonin and anandamide which increases motivation and happiness which is the same substance found in an antidepressant.
Accomplishing the challenge of paddle boarding will fill you with a real sense of self-satisfaction. Spending intentional time with people who are important in your life is a great way to relieve stress. Not only does the reminder that you have a support group network doing wonderful things for your peace of mind, but simply being surrounded by positive vibes provides a sense of ease. Together your crew can paddle through the water and soak up the sun. You may also find the opportunity to strike up a meaningful conversation (maybe about what's stressing you out) in a space removed from the pressure associated with your typical setting. I wholeheartedly believe that paddle boarding offers one of the most accessible, immediate, and direct paths to achieving a healthier, calmer, and more fulfilling life. Yes~ you can paddle board 6 feet apart!
Paddle for Suicide
Prevention Launch Sites
Indian Rocks Beach Access-1600 Gulf Blvd
9300 Bay Pines Veterans Memorial Park
Seminole Waterfront Park-Long Bayou-wheelchair Accessible
Days and Times will vary to meet the needs of individuals.
All classes will be 2.5 hours in length from start to finish, weather permitting.
All equipment will be provided.
Please bring own water and sunscreen
What to wear: Water shoes, hat and sunglasses
Educational brochures with mental health education will be provided by the American Foundation of Suicide Prevention at the day of launching.
If we are not able to paddle, weather permitting , we can walk the beach or the grounds where we are at.
Paddle for prevention times by appointment so just contact us to schedule a time.